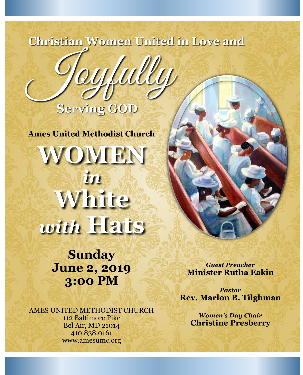 Ames United Methodist Church will celebrate its 77th Women?s Day service on Sunday, June 23 during the 10:30 AM worship service. The theme is Christian Women Joyfully Serving God. Our guest preacher will be Rev. Evangelist Wanda Johnson, Freedom Missionary Baptist Church, Baltimore, MD. We hope you will join us in worship.
To commemorate this celebration, a souvenir book will be produced. We are hopeful that you will not only grace us with your presence, but support our service by purchasing an ad. Included with this letter is an advertisement form with advertising options. Individuals may include memorials, tributes, expressions of congratulations, etc. Please note: persons who submit ads will receive a color souvenir book.
Patrons per line (single, couple, business) - $5.00
AD: Business Card (receive a color book) - $30.00
AD: ¼ Page (receive a color book) - $40.00
AD: ½ Page (receive a color book) - $60.00
AD: Full Page (receive a color book) - $100.00
You may submit your ad(s), photos, and completed form via email to Darlynn McCrae at darmccrae@aol.com or mail to the church at Ames UMC, 112 Baltimore Pike, Bel Air, MD 21014 by the deadline date of May 25. Please note that all ads must be ?camera ready? and high resolution in JPEG, PDF or in Microsoft Word format. If you need assistance with your ad or have questions, email Darlynn McCrae or call her at 443-254-2083.
Thanking you in advance for your consideration,
2019 Women?s Day Chairperson
Click on images to download flyers and the registration form